Barrel Pump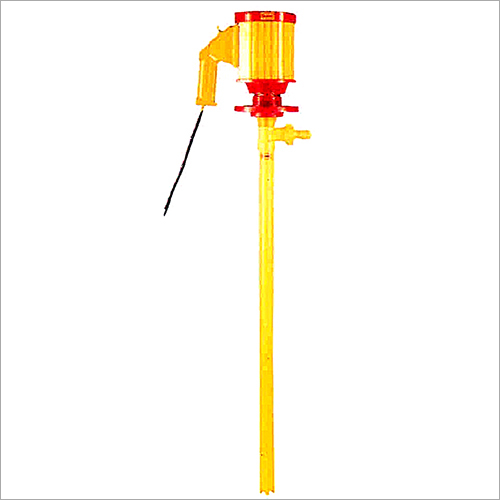 Barrel Pump
Product Description
As a prominent manufacturer of Barrel Pumps, we strive to bring consistent improvements to our array. Since the beginning we have tried very hard to produce pumps whose quality is in compliance with global standards. Barrel Pumps that we offer are manufactured by our experienced as well as expert team, who design them in a manner that they ensure smooth regulation. We are very well as aware of their application and usage, which we keep in mind while designing and manufacturing the range.
Products Details :
All wetted parts, Outer & Inner Pipes are made of Polypropylene.
The Shaft is made of Hastalloy-B2, (Containing 29% Molybdenum) or SS-316 Bright Bar.
The Impeller is made of ETFE (Moulding grade of PTFE)
Salient Features :
Seamless Design
Self priming type
Light weight & hence portable
Modular design construction for easy maintenance
All components are interchangeable
Salves considerable time, labour & spillage
High standard of quality & safety ensures reliable performance for handling Aggressive corrosive & Flammable Liquids
Technical Specification :
1150mm for Std 200 / 250 Ltrs Barrel
Capacity 110 lpm at open discharge (Max)
Head 21 Mtrs (Max.)
Temperature - SS316 -upto 120oC
Temperature - PP -upto 70oC
Temperature - PTFE -upto 240oC
Drive Units available
Flameproof Electric motor : TEFC, Single Phase, 220V, 50Hz, 0,7HP, 15000 rpm. AC/DC Electric Motor, Suitable for Gas Group I, II-1A & IIB
Pneumatic Operated air Motor : Chicago Pneumatic make, In-built regulator type, 21,000 rpm, Working Pressure at 4 to 7 Bar Air Pressure & Consuming 25 cfm of air.
Non-Flameproof electric motor : Single Phase, 220V, 50Hz, 0,7 HP, 15000 rpm, AC/DC type, Universal Electric Motor.
Application :
SS Pump With FLP Motor : For almost all types of solvents, varnishes, Turpentine, Paints, Gasolene, HSD, Petroleum Products, Chloroform, Drugs & Pharmaceuticals, Decreasing Agents, Phenol, IPA, LDO, Water treatment Chemicals, Nitric Acid, Phosphoric Acid. Thermic Fluid etc.
PP Pump With Hastalloy Shaft : For highly Corrosive Liquids like Conc. HCL, Dil. H2S04, HF, NA0H
Formic Acid, Electroplating Solution, Photographic Developers, Salt Soln, Pesticides, Intermediates, Toxic Chemicals etc.
PTFE BARREL PUMP : Suitable for all of the above.

Contact Us
162, Sadar Patrappa Road, Bengaluru, Karnataka, 560002, India
Phone :+918037404718