Barrel Pump Aluminium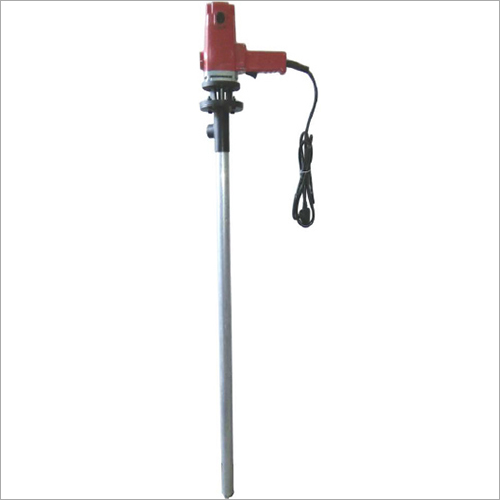 Barrel Pump Aluminium
Product Description
Description :
All wetted parts like pumping Chamber, Pump, Base, Discharge Tee, Nozzle, Wing Nut are made of SS-316 investment Casting.
The outer & Inner Pipes are Seamless type Made of SS-316
The Shaft is made of SS-316 Bright Bar
The Guide Sleeve and Lip Seals are made of PTFE.
Salient Features :
Seamless Design
Self priming type
Light weight & hence portable
Modular design construction for easy maintenance
All components are interchangeable
Salves considerable time, labour & spillage
High standard of quality & safety ensures reliable performance for handling Aggressive corrosive & Flammable Liquids
Technical Specification :
1150mm for Std 200 / 250 Ltrs Barrel
Capacity 110 lpm at open discharge (Max)
Head 21 Mtrs (Max.)
Temperature - SS316 -upto 120oC
Temperature - PP -upto 70oC
Temperature - PTFE -upto 240oC
Drive Units available
Flameproof Electric motor : TEFC, Single Phase, 220V, 50Hz, 0,7HP, 15000 rpm. AC/DC Electric Motor, Suitable for Gas Group I, II-1A & IIB
Pneumatic Operated air Motor : Chicago Pneumatic make, In-built regulator type, 21,000 rpm, Working Pressure at 4 to 7 Bar Air Pressure & Consuming 25 cfm of air.
Non-Flameproof electric motor : Single Phase, 220V, 50Hz, 0,7 HP, 15000 rpm, AC/DC type, Universal Electric Motor.
Application :
SS Pump With FLP Motor : For almost all types of solvents, varnishes, Turpentine, Paints, Gasolene, HSD, Petroleum Products, Chloroform, Drugs & Pharmaceuticals, Decreasing Agents, Phenol, IPA, LDO, Water treatment Chemicals, Nitric Acid, Phosphoric Acid. Thermic Fluid etc.
PP Pump With Hastalloy Shaft : For highly Corrosive Liquids like Conc. HCL, Dil. H2S04, HF, NA0H Formic Acid, Electroplating Solution, Photographic Developers, Salt Soln, Pesticides, Intermediates, Toxic Chemicals etc.
PTFE BARREL PUMP : Suitable for all of the above.
Contact Us
162, Sadar Patrappa Road, Bengaluru, Karnataka, 560002, India
Phone :+918037404718